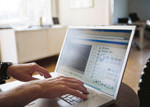 Academic writing builds on previous research and when you start to write academic texts you will take part of the conversation which research consists of. You will use previous research to support your own findings and reasoning. You should also be able to argue against research that comes to other conclusions than you do. In any case it is important that you become familiar with how you refer to someone else's work correctly. You must also write your references in a consistent manner in order to facilitate for your readers to find your sources.
In the section Reference management we discuss:
how you quote, paraphrase and make general references.
how you refer to a source, in the text as well as in the list of references
examples of different styles, such as Harvard, APA, IEEE etc.
how you can generate ready-to-use references in catalogues and databases.
how reference management software works
To assist you, there are built in functions in many library catalogues and databases, but you can also use reference management software, where you work with your own library of references.
The Act on copyright in literary and artistic work regulates how you can use material that someone else created. The law not only protects texts, but also pictures (images), photographs, music etc. Bearing this in mind, remember that you have the right to quote others according to good custom, i.e. when it is motivated by the purpose of your own work.
Watch a film from Lund University where Fredrik Vanek explains why you should use references (5 min.)